The Kurdistan Region of Iraq, with a diversity of landscapes, culture and heritage, looks to raise its profile as an adventure and archeological tourism destination.
The tourism industry has great potential to become an important contributor to the Kurdistan Region of Iraq's (KRI) economic growth and is also important a means of diversifying the KRI's economy away from reliance on energy exports.
The tourism sector softened slightly between 2015 and 2017, when regional problems led to an economic slowdown in the KRI, but it has rebounded well in subsequent years. According to the KRG's Ministry of Tourism, 2019 was a record-breaking year. Visitor arrivals rose to around 3.1 million. The KRI expects to attract nearly 5 million visitors by 2025. While internal tourism remains Kurdistan's largest market, Turkey, Iran, Lebanon, Jordan, and the European countries formed the largest foreign markets.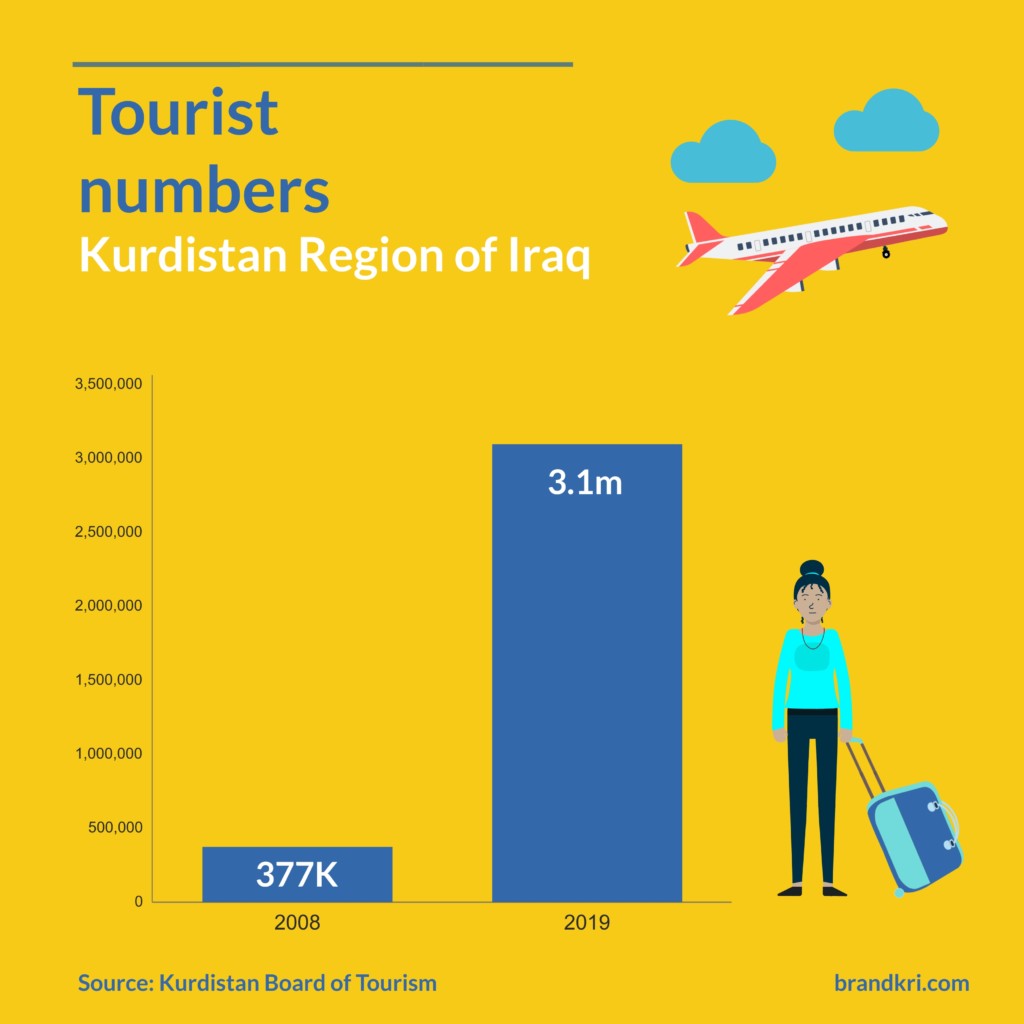 The number of annual visitors has grown every year over the last decade from 377,482 in 2008 to 3.1 million in 2019. This is a testament to the hard work and efforts the KRG has made to create awareness of Kurdistan since 2008.
Kurdistan offers tremendous offerings to people who want to connect with culture, heritage, and history.
Key drivers ensured visitor growth in the KRI
KRG regulatory policies, which have increased the inflow of visitors. Forty nationalities are now eligible for a visa valid for 30 days upon arrival for entry into the KRI, which has helped increase the number of visitors.
Providing public-sector infrastructure investment played a key role in building top-class roads and internal transport links facilitating travel into and across the KRI.
Robust security and low crime rates have been key factors in attracting visitors.
Attracting numerous events, festivals and activities which have raised the demand of tourists to visit.
The KRI's tourism sector has the potential to experience growth as the relatively undiscovered destination attracts a number of local and foreign adventurers and cultural explorers to its leisure offerings. One of the future growth areas for tourism are dependent on the development of Kurdistan's adventure and archeological tourism assets.
Archeological Tourism
The KRG's tourism development plan calls for promotion of its archeological tourism offerings, to become a player in the archeological tourism market. Kurdistan offers a wide selection of historic places. There are currently over 1,300 archeological sites in the KRI. Public- and private-sector leaders believe that by increasing awareness of Kurdistan's archeological sites, the sector can attract record numbers of visitors in the years to come.
Kurdistan has the potential to become a regional draw for adventure-related activities and a popular place for outdoor tourism.
Adventure Tourism
Kurdistan's unique natural assets and outdoor attractions provide the Region with a stronger ground to showcase itself as an adventure tourism destination. Entrepreneurs aim to tap into a growing movement for "adventure tourism," while KRG planners try to square the Region's desire to attract more tourists with the protection of its natural resources. Investment in adventure tourism will draw local and international tourists and will help to establish the KRI as a key leisure destination of choice in the region.
Investments
Tourism is slowly beginning to play a larger role in the Kurdish economy. Since 2006, local and international investors have poured $7.8 billion into the Region's tourism industry. Around 40% of that total has come from foreign investors, mainly those in the UAE, Turkey, and Lebanon according to data from the Kurdistan Board of Investment.
Since 2006, local and international investors have poured $7.8 billion into the Region's tourism industry.
Erbil has dominated tourism investments, with 82 projects licensed since 2006 and a total investment of around $5.5 billion. Duhok was home to 59 licensed tourism investment projects valued at nearly $853 million over the same period. Although the Slemani governorate saw just 20 licensed tourism investment projects in that time, the total value of investment in the tourism sector there actually surpassed that of Duhok, at $1.4 billion.
Tourism Investment by Governorates
Erbil: $5.5 billion — Slemani: $1.4 billion — Duhok: $853 million
The KRG seeks to raise foreign investment in the sector over the next four years to bolster Kurdistan's profile as a regional tourism destination and have laid out plans to further improve Kurdistan's road infrastructure to facilitate travel across the Region.
One of the most visible tourism development projects in Kurdistan was the Korek Mountain Resort and Spa, a $95 million venture that draws winter sports enthusiasts from Iraq and across the Middle East to the KRI. Another significant tourism investment project, the $2 billion-dollar Dukan Tourist City project, is under construction. The project seeks to build a resort complex of hotels, restaurants, and residences on the shores of Lake Dukan near Slemani. The Dukan lake project is expected to become the centerpiece of Kurdistan's outdoor leisure offerings.
Hospitality
The KRG has been successful in encouraging private-sector investment in hospitality sector. The KRI has 453 hotels, with a total 19,702 room capacity. If the KRI reaches its goal of 5 million visitors by 2025, the hospitality sector will need additional rooms to meet demand.
The KRI is a popular weekend destination for a number of southern Iraqis, who constitute a significant percentage of visitors. The second group of hotel guests are foreigners who visit the KRI for business purposes. These visitors are employees of energy, pharmaceutical, manufacturing, media, nongovernmental and governmental bodies. The outlook for the KRI's hospitality sector is expected to gain strength, with an influx of southern Iraqis and business events.
The KRI's hospitality industry performance was strong in 2019, with double-digit increases in room revenue, and average length of stay — figures that were particularly impressive considering average room revenue fall during 2016 and 2017. In 2019, average occupancy reached around 65%, a 25% increase from 2017.
The Kurdistan Region of Iraq is one of the safest places in the Middle East. There is minimal risk from crime, and tourists can move around in safety.
MICE market
The KRI is working to expand its meetings, incentives, conferences and exhibitions (MICE) tourism sector.
The KRG's tourism development plans have relied on a diversity of events that focused strategically on organizing and hosting exhibitions, conferences and events, which are in line with the KRG's diversification policies.
The KRI has begun to host more major conferences and events in recent years. In 2019, Kurdistan hosted the Middle East Tourism Expo and the Middle East Congress on Pharmaceuticals for the first time. The expansion of the MICE market reflects the KRI's rapid growth in the tourism industry and increasing status as a secure business tourism location. In this vein, it is expected that hosting unique regional events will give a powerful stimulus to the tourism sector in the KRI.
---