The Kurdistan Region of Iraq (KRI) is governed by a unicameral legislature, the Kurdistan Parliament, which considers new legislation, scrutinizes government activities and policy, and debates major issues before the KRI.
The Kurdistan Parliament shares legislative authority with the Iraqi Council of Representatives in the areas of education, health, historic preservation, policing and internal security, transport, natural resource management, environmental policy, and tourism. The laws of the Kurdistan Region take precedent over federal legislation in issues involving customs, the distribution of electricity, internal water resources, and general planning.
The first Parliamentary elections were held in May 1992. The minimum age of parliamentary candidates is 25.
In addition, as per Article 115 of the Iraqi Constitution, all powers not explicitly reserved to the Iraqi federal government belong to Iraq's regional authorities, including the Kurdistan Parliament. When regional laws contradict federal legislation outside areas specifically reserved for federal authorities in the Iraqi Constitution, the Kurdistan Parliament has the authority to amend the application of federal laws within the Kurdistan Region.
To encourage diversity, 11 seats in the Kurdistan Parliament are automatically assigned to parties representing minority groups in the Kurdistan Region of Iraq. Five seats are allocated to Turkoman representatives, five to Chaldean, Assyrian, and Syriac representatives, and one to the Armenian community.
Under regional electoral law, elections for the Kurdistan Parliament must be held every four years. Members of the Kurdistan Parliament are elected through a system of proportional electoral representation. In addition to legislating KRI's laws and budget, the Parliament is also responsible for ratifying agreements with foreign entities and working with the federal government.
A legal minimum quota is in place to ensure that women hold at least 30% of the seats in Parliament.
The Parliament houses 19 functional committees that oversee legislative issues within their purview.
Legislative
Finance and Economic Affairs
Interior
Peshmerga, Security and Local Councils
Social Affairs and Human Rights
Protection of Women's Rights
Martyrs' Affairs, Genocide and Political Prisoners
Education, Higher Education, and Scientific Research
Health, Environment and Consumer Rights
Agriculture and Irrigation
Kurdistani Areas outside KRG Administrative Area
Energy, Natural Resources, Commerce and Industry
Municipalities, Transport, Communication, Travel, Tourism
Reconstruction and Investment
Culture, Civil Society, Sports and Youth
Integrity and Complaints
Parliament Affairs
Relations and Kurdish Diaspora
Endowments and Religious Affairs
KRG Elections 2018
Last parliamentary elections took place in the Kurdistan Region of Iraq on September 30, 2018.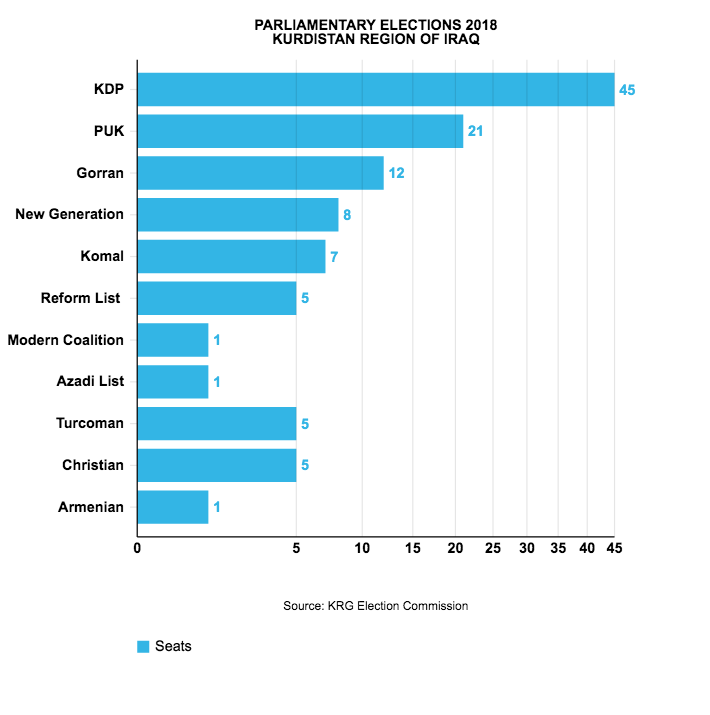 The 2018 Parliamentary elections proved once again that elections in the Kurdistan Region are conducted democratically and are reliable.
---